Spring Cleaning: Don't Forget Your Car!
Spring cleaning is a practice that takes place when the weather turns warm and people decide to clear away all the clutter, literally and figuratively, from their home and their life.
Our team at BMW of Reading, your local BMW dealership in PA, wants to remind all of our customers to make sure they do not forget to place their BMW on their to-do list.
Since automobiles have become an integral part of our daily lives, we tend to use them as we would a beloved room in our home and that includes leaving behind debris. That isn't even considering the wear and tear your BMW experiences from the outside elements and time. That is why we encourage you to take the time to treat your BMW to a deep clean and get it properly ready to transport you on all of your journeys.
Naturally, you can schedule a detail and get the big jobs — polishing, waxing, scrubbing, vacuuming, etc. — done right away.
If your vehicle doesn't need all of that or if you have a busy schedule however, here are several quick tips on how you can get the most out of cleaning and organizing your BMW: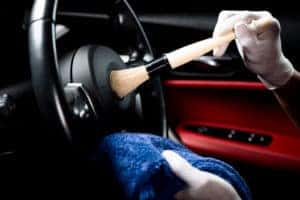 • Clear out your cup holders and then place cupcake liners in them to collect any loose items (change, chapstick, etc).
• Coat your windshield wipers in rubbing alcohol, which will eliminate future streaking or blurred spots along your windshield.
• Do you have dusty or dirty car vents? Surprisingly, you can use a foam art brush to get rid of any lingering winter cobwebs. You also can use a can of compressed air for further cleaning.
• To restore the shine of your hubcaps, use a combination of cleaning powder and water. This mixture will be softer on the wheel's finish than wheel cleaner itself.
• Use dryer sheets to wipe down the front of your BMW's grille, especially when it comes to getting rid of the remains of any unfortunate insects you've run into while out on the road.
• Since you always want your headlights to shine bright, you can use a cleaner or a toothpaste brand that has baking soda as an ingredient to really get them sparkling again.
• Use stain spray on your floor mats and then throw them in the wash.- Do you have a pet that just loves riding in the car but sheds everywhere? Be sure to vacuum out your BMW thoroughly. You also can use a spray bottle of water (to loosen up the fur) and a squeegee to finish the job.
• Using Goo Gone or a similar cleanser on your dashboard will help eliminate stains and general stickiness.
• Give your windshield a proper cleaning by using a squeegee, a window cleaner and a finishing coat of Rain X or other windshield treatments.
• Your BMW has a lot of cracks and crevices that might be hard for you to reach and can fill up with food crumbs or other messes. To fully clear those out, place a small rag on the tip of a screwdriver with a flat head and run it through all those tight spaces.
• Though you typically might not know this, the ceiling of your BMW can become quite dirty. A microfiber cloth will be able to handle getting it clean again.
• Corrosion often will build on your battery over time. Our staff at BMW of Reading recommends checking it every so often and getting rid of any corrosion you might see. You can use a cleanser (or even soda in emergency situations) to do so.
• Using a clay bar on any exterior crevices will not only get rid of dirt, but also will preserve your paint job and keep it shining. To truly have the leather in your BMW's interior stand out and look amazing, clean it off with old cleaning toothbrushes and a combination of baking soda and water.
Here at BMW of Reading, we hope you find these tips useful. We also recommend scheduling an appointment with our service department to have your BMW perform as great as it surely will look. Please contact us with any questions you might have and happy cleaning! 
Source: blog