Buying New Cars for Sale Online In Reading, PA
Buying luxury, brand new cars for sale online:
Cut directly from the designers and right from the manufacturer is possible at BMW of Reading.

With the internet transforming the way consumers work and shop, car buyers no longer have to spend hours upon days looking at new and used dealership car lots here and there.
Too much back and forth could become tiresome for some. If these are your initial thoughts when it comes to car buying then why not utilize the internet to buy cars for sale in Reading, and from the comfort of your home.
Most importantly, with innovation always lurking close by every second of the day in the technology world, it is no wonder why car buyers want the efficiency that comes along with buying cars for sale online; the process is simple.
Nowadays times have advanced and practicality is always sought after by drivers who don't have enough time to step onto car lots and deal with the rigmarole when it comes to buying a new car.
Some drivers solely want simplicity and that's exactly what is involved.
At BMW of Reading in PA, our car experts ensure that new cars for sale online is a  safe experience as we keep all customers' information highly secure and private.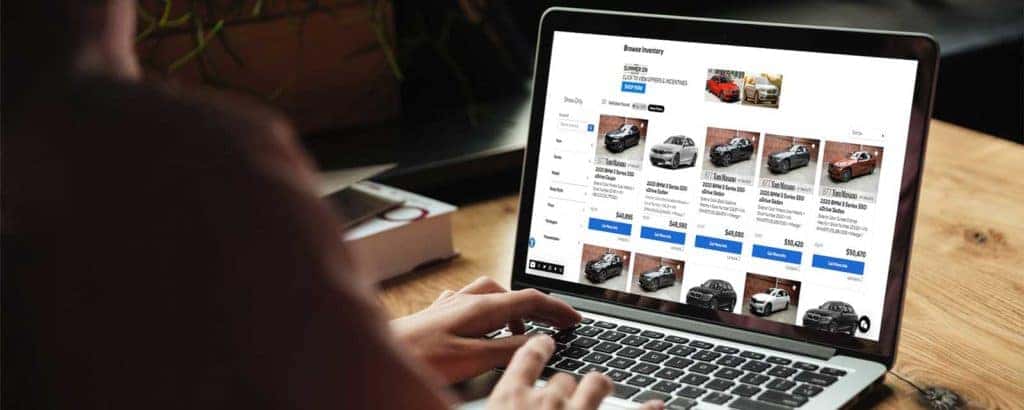 When drivers choose to buy new or used cars for sale online, pick a new and used dealership in Reading with 75+ years of rapport!
The world of online shopping continues to advance. It is becoming easier for customers on the web, considering artificial intelligence and algorithms improve and enhance the online car buying and shopping experience.
Before car buyers begin the process of purchasing a large automotive vehicle online, follow the tips below:
Some Vital Factors to Think About Before
Buying Cars Online
:
Determine the price that you are willing to spend.
Choose what type of vehicle is right for you: fuel, plug-in hybrid or electric car for sale
If you are planning on financing a vehicle, choose a financial institution with a low interest rate (APR).
Retrieve a pre-approval letter before approaching a new or used dealership in Reading.
Browse all car deals and military incentives available.
Choose your perfect vehicle model.
Search inventory at various new and used dealerships online: Tom Masano Auto Group, Tom Masano Ford Lincoln or Tom Masano Inc., a Mercedes-Benz Dealer in Reading, etc.
Chat with an internet Sales Manager online or on the phone and inquire away! FaceTime with a sales expert and see your vehicle of choice in real-time.
Schedule a test drive! Our car experts will drive to your home with the vehicle/model of your choice.
After deciding a specific vehicle is right for you, car buyers can sign the rest of the paperwork in-person. Drop into our new or used dealership or have the vehicle delivered, right to your door!

Above all, if any new or used dealership does not honor your online internet agreement then head to another dealership that will. Keep in mind, when car buyers walk away, this action poses as a negotiation tool; use it wisely.