All-New BMW i4

Electrifying in every way.
BMW is no stranger to electrified models, and the 2021 i4 sedan looks to further bolster the brand's EV portfolio. Based on Bimmer's most famous model, the 3-series, the upcoming i4 is a low-slung four-door that's expected to compete with rivals such as the Tesla Model 3 and the Audi e-tron GT. While full details are still forthcoming, we do know the BMW EV will have a 530-hp electric motor and an 80.0-kWh battery pack. BMW claims that the i4 will boast a driving range of 372 miles as well as a full complement of high-tech equipment when it goes on sale sometime in 2021.
What's New for 2021?
The BMW i4 is an all-new electric sedan that is expected to compete against the Tesla Model 3 and other mid-size EV sedans when it finally hits showrooms in 2021. Although we've seen a concept car, spy photos, and most recently a camouflaged prototype playing in the snow, we're still waiting on more comprehensive and concrete details.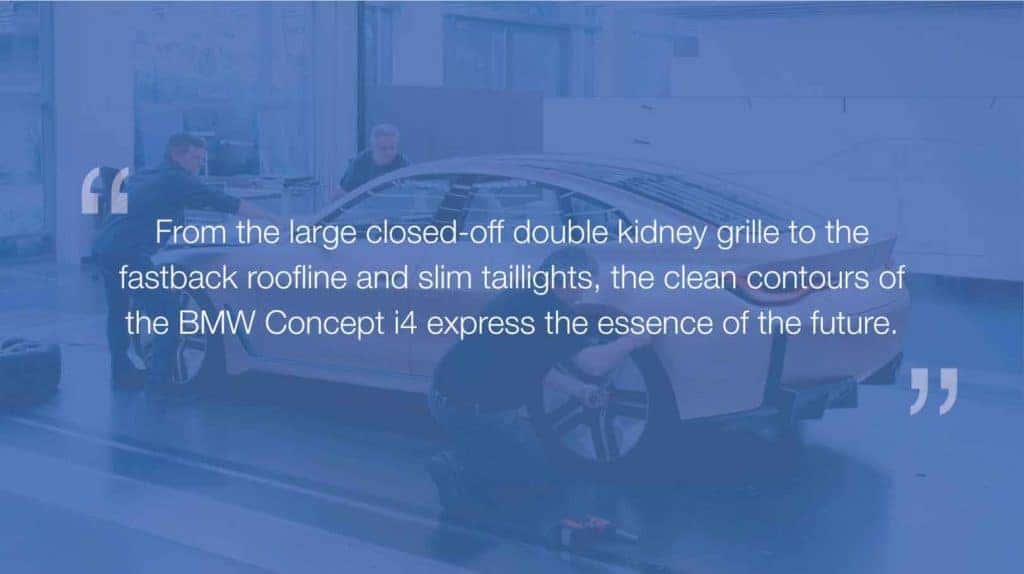 Engine, Transmission, and Performance
The 2021 i4 will feed electrons to an electric motor that is expected to make 530 horsepower. BMW has said the sedan's battery-pack capacity will be approximately 80.0-kWh. Likewise, the company says the all-electric four-door will accelerate from zero to 62 mph in four seconds flat. We think that's conservative, since we tested a Model 3 that whirred to 60 mph in 3.5 ticks despite having almost 80 fewer ponies. We also expect the i4 to offer both rear- and all-wheel drive, which will ultimately produce different zero-to-60-mph times.
Range, Charging, and Battery Life
BMW says the i4 will have the ability to travel up to 372 miles on a full battery. However, that estimate is based on the European testing cycle that is much more generous than the EPA range cycle that we use here in America. Along with a battery pack that measures about 80.0-kWh, the i4 will have a 150-kilowatt charging capacity can provide up to 80-percent of the car's driving range in just 35 minutes.
Fuel Economy and Real-World MPG
The EPA hasn't yet released estimates for the i4's fuel economy or driving range, so all we have to go on is BMW's claim of 372 miles per charge. Once we get an i4 to our office for testing, we'll put it through our 200-mile highway fuel economy route to determine it's real-world driving range.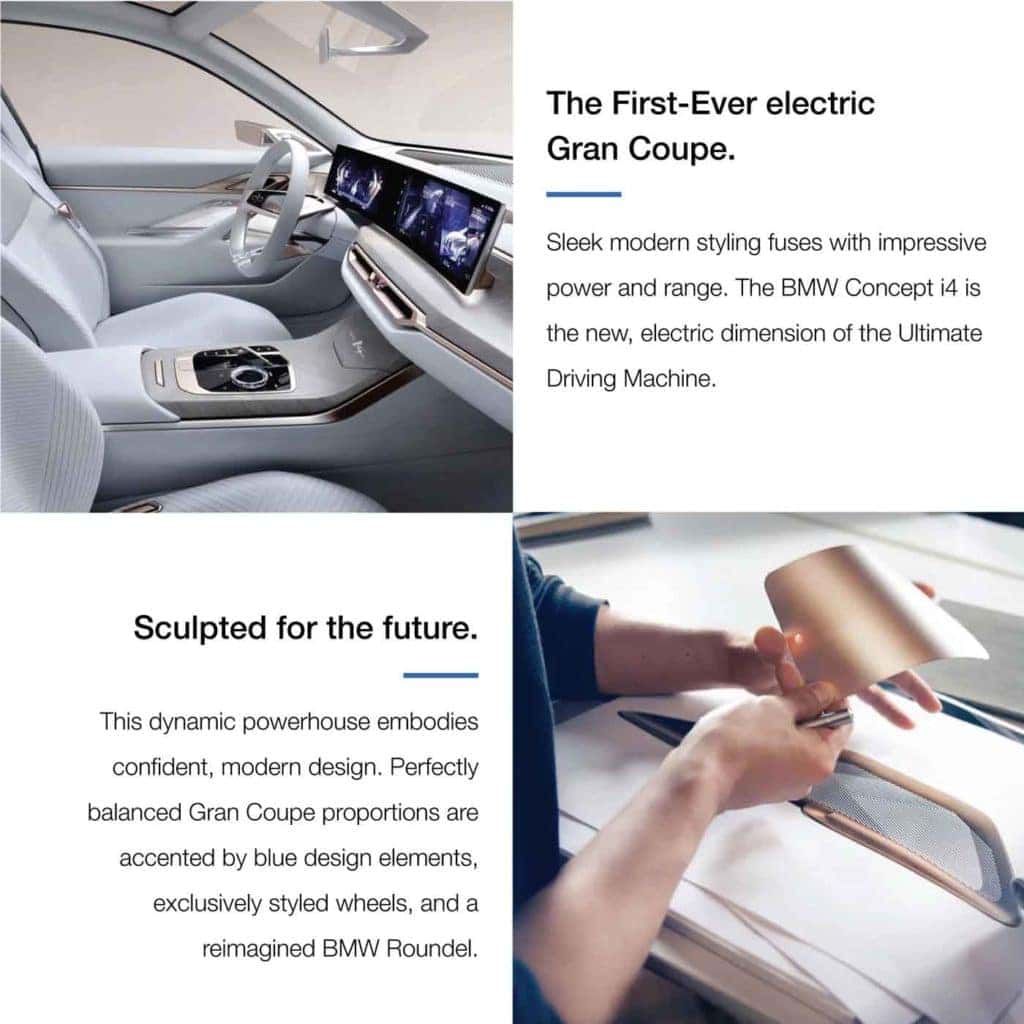 Interior, Comfort, and Cargo
The i4 Concept's cabin looks richly appointed and features rose gold trim, white leather upholstery, and light wood trim. We know the car will share its underpinnings with the company's 3-series sedan, so the interior will likely be equally as spacious.
The i4's roofline is more dramatic than the 3, though, offering a four-door-coupe body style and what appears to be a large rear lift gate that opens to reveal a large cargo area like that of BMW 4-series Gran Coupe.­­­­
Infotainment and Connectivity
If the i4 Concept's cabin is anything to go by, we expect the latest and greatest in-cabin tech on the upcoming i4, including a large touchscreen infotainment system with gesture-operated controls and a fully digital gauge cluster. Every current BMW offers Apple CarPlay capability, a Wi-Fi hotspot, wireless phone charging, and various audio-system upgrades, so you can bet that the i4 will also inherit these features.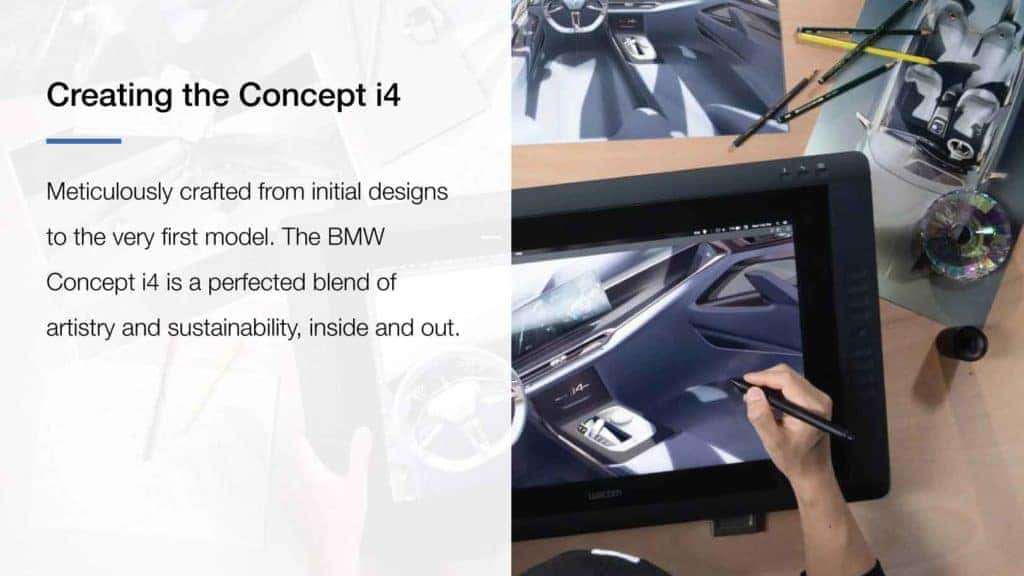 Safety and Driver-Assistance Features
The 2021 BMW i4 hasn't been crash-tested by the National Highway Traffic Safety Administration (NHTSA) or the Insurance Institute for Highway Safety (IIHS). While we expect it to offer all the latest driver-assistance technology-and maybe even semi-autonomous driving modes-we won't know the specific equipment until closer to its official on-sale date.
Warranty and Maintenance Coverage
BMW currently offers a competitive warranty that includes one of the better complimentary maintenance periods. Since the i4 is an electric vehicle, its battery components will also be covered, likely for eight years or 100,000 miles.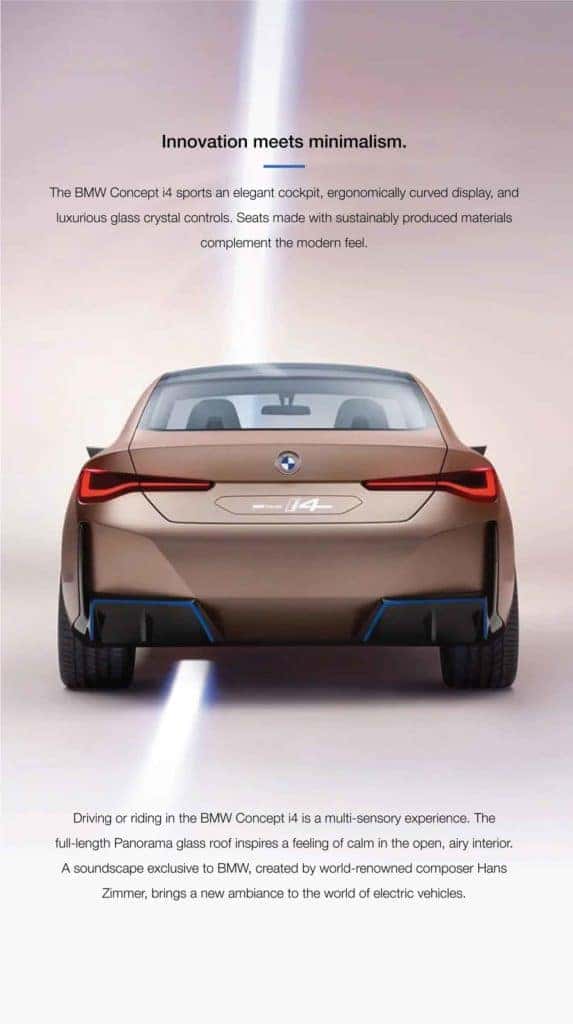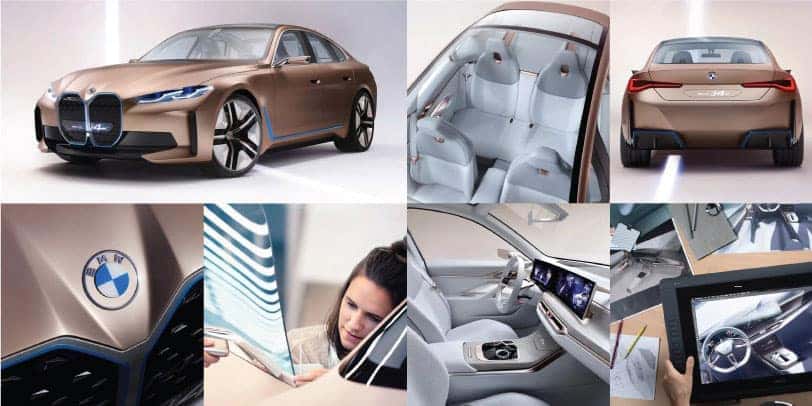 Sources:
Car And Driver
https://www.caranddriver.com/bmw/i4