BMW i4
Imagine large into the future and trace along all sorts of paths with greater efficiency, sustainability and luxury completed with sharp designs; appealing to every eye!
BMW i4 Key Features:
Long 300-mile range capacity before needing a charge
Maximum horsepower reaches 500hp
Within 4 seconds, drivers can reach 0-60 mph!
A $1,500 pre-order payment will be required to pre-order your i4 or iX BMW model.
Or choose:
BMW iX
An all-electric SUV for sale that dominates every which way with sustainable confidence and stealthiness.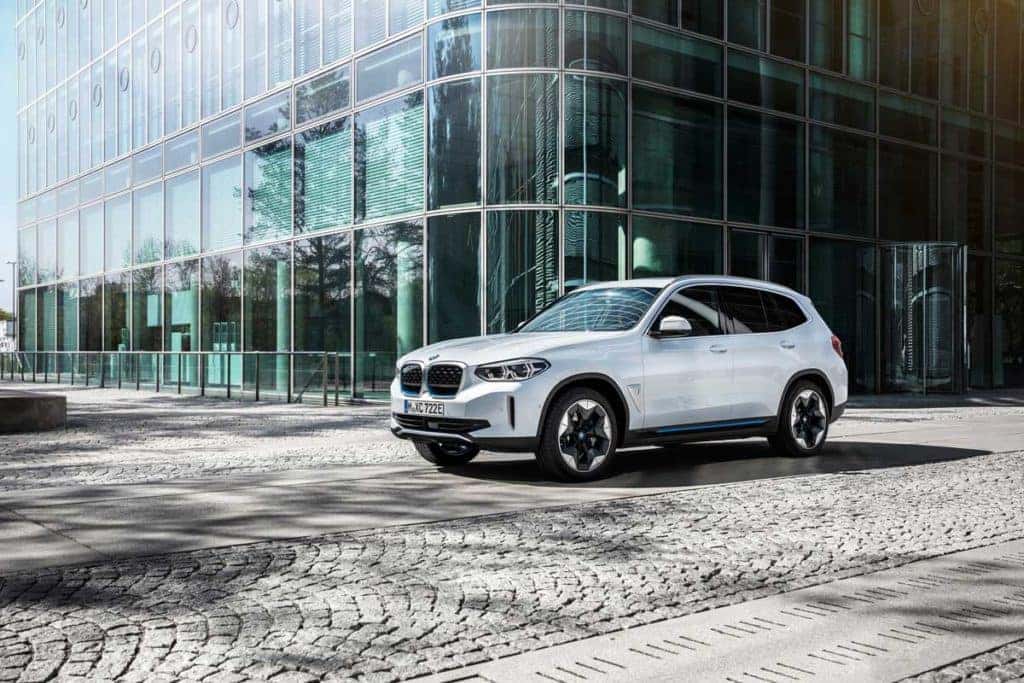 BMW iX Key Features Include:
300 miles per charge
40-minutes of charging enables electric vehicle (EV) drivers to achieve an 80% charge
The battery size is just right – over 100 kWh
Power? Strike max horsepower of 500hp!
Speedster? 0-60 mph in less than 5 seconds!
Spacious and easily compared to the X5
Its athleticism is certainly inherited from the X6
Emits an aura of the X7
This highly efficient and comfortable luxury EV SUV for sale is finally up for grabs via pre-orders
With a limited supply, BMW IX connoisseurs can sign-up to pre-order below
Pre-orders will require a $1,500 down payment
Read the BMW i4/BMW iX FAQ Below for Specifics & Soon Pre-Order Your All-Electric Vehicle For a Limited Time!
______________________________________________
BMW i4/iX FAQs:
1. Pre-Ordering an i4 and iX, What Is It?
Customers can now secure the highly anticipated BMW i4 or iX electric car or SUV for purchase. Simply provide a pre-order deposit of $1,500 at shopbmwusa.com. Thereafter, receive a confirmation number via email from your local BMW Center which participates in the BMW Pre-Order Program. Deliveries are expected to begin March, 2022. Customers are eligible to cancel Pre-Orders at any time before the delivery.
2. How to Pre-Order BMW i4/iX?
Place a pre-order via ShopBMWUSA.com by following 3 efficient steps:
Pick a local and valued BMW Dealer Near Me
BMW i4: Pick your i4 model (i4 eDrive40 or i4 M50) and add to your shopping cart
BMW iX: Add the iX pre-order to your shopping cart
Choose preferred type of payment & check out
Once customers check out, you will receive a confirmation number email. The BMW Dealer Center that you selected will then contact you in the fall of 2021 (Sep/Oct) for vehicle configurations and to discuss the delivery date and time.
3. The Pre-Order Fee, Is It Refundable?
The full pre-order fee of $1,500 is refundable. If you need to cancel your pre-order, contact your local BMW center near me. You will need your email confirmation number along with the original email that you received.
4. When Will I Receive My New BMW i4/iX?
The BMW iX & the BMW i4 will not be available for delivery until March 2022. Delivery times may vary depending on when customers placed their orders. Preferences relating to vehicle configurations including trim and other selections may also play a role in varying delivery times. Your BMW Center will provide all customers with delivery and timing updates during the process.
Early pre-order customers that receive a delivery confirmation date "by June 30, 2022" will receive their vehicle for sale by this date, at the latest. If there is any delay, your BMW Center will get in touch with you to set up a delivery date ASAP! The customer can cancel the pre-order during any time and will also receive a full refund for the pre-order payment.
5. How Do I Know If My Order Was Processed?
Once your BMW iX or BMW i4 vehicle for sale pre-order is placed, customers will receive a confirmation email and number. If you do not see an email, then contact your local BMW Center near me!
6. Incentives? Do I Qualify for Any?
If you are a first time electric vehicle (EV) owner, yes, you'll receive a tax credit of up to $7,500 plus state incentives which may include rebates, grants and tax credits. The BMW IX 2022 model is not yet certified for credit eligibility by the IRS. Keep in mind, state incentives are additional and may be available. Tax credits are a complex topic and are subject to change without any notice. BMW of North America, LLC ensures to keep all information updated although the company cannot guarantee current accuracy of eligibility. It is recommended that you consult with a professional tax consultant to validate tax credit eligibility and availability.
7. Where Is My Pre-Order Confirmation Number Located?
Once you pre-order the BMW iX or BMW i4, each customer will receive a confirmation email which contains the confirmation number. Did not receive the email? Then you'll need to contact your selected BMW Center near me.
8. Can Pre-Orders Be Placed with BMW Dealerships Not in the Program?
All orders that DID NOT originate from the ShopBMWUSA.com Pre-Order Program portal WILL NOT be fulfilled.
The Pre-Order Program will be available for a limited time online. BMW continues to encourage BMW Dealers to direct all customers to the Pre-Order Portal online.
9. Can Dealership Staff Pre-Order Vehicles by Using the Customer's Name and Credit Card?
No. BMW will not honor these orders. Customers will need to place the pre-order under his/her own name and provide matching payment information.
10. Who Is Eligible to Order an Electric Car for Sale Through the Pre-Order Program?
The BMW Pre-Order Program is offered to customers residing in the U.S. and for those 18 years or older.
The program is also offered to corporate entities and businesses, as long as the customer validates and authenticates ownership of, or employment by the business or corporate entity.
11. How Many Vehicles for Sale Can One Customer Pre-Order?
How Many i4/iX Vehicles Can 1 Customer Order?
BMW i4 and BMW iX Pre-Orders (Limitations & Maximums):
2x pre-orders per home address
1x pre-order per credit card