Best Electric Cars 2022
Electric vehicles (EV's) and hybrids are continuing to pour out into the automobile market as the years progress towards cleaner air and sustainable environment initiatives that look to preserve the earth's resources for the better.
Learn about 6 popular EV's in 2022 and begin to electrify your future driving worlds every day you step foot into your all-electric dream vehicle.
Enliven everyday rides and confide in the car experts at BMW of Reading for any automotive questions that you may have.
This spacious SUV for sale comes with an all-electric and futuristic vibe that's energized and stylistically alive to drive the drive and walk the talk.
With an EPA of 324 miles, the BMW iX for sale is an SUV beauty meant for electrifying experiences which warps and wraps drivers into innovative connectedness coupled with smooth and quiet rides exemplifying a comforting automotive experience unlike any other.
The beginning price is $83,200. This all-electric vehicle is set to be delivered to BMW connoisseurs and drivers who've ordered this EV well in advance.
Deliveries should happen in March 2022.
To place an iX order, do so at BMW of Reading today and electrify your transportation!
Other iX Driver Highlights:
106.3 kWh large battery

Sports utility vehicle and ultimately spacious

0-60 mph in 4.4 seconds (Fastest SUV!)

Safety and practicality are major takeaways when it comes to the

iX

Technology-driven

Electric vehicle tax incentives up to $7.5K

Fully electric vehicle with dual engines and with all-wheel-drive (AWD)

Leaves zero carbon behind and provides number one sustainability (drivers never fill up at the gas station again and save even more money in the long-term)

Simple, innovative and timeless: welcome to the BMW iX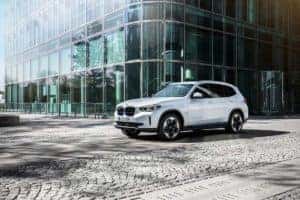 2. 2022 i4 eDrive40: Obtain Double Looks
The 2022 BMW i4 is a sleek and ultra luxurious electric car for sale in Reading, PA holding up to 301 miles of driving range and starts at an MSRP of $56,395.
U.S. deliveries begin March 2022.
For drivers seeking clean-cut and sharp prestigious designs. This professional & sporty four-door sedan offers open airy spaces and a lot of room for movement!
The BMW i4 for sale is an advanced vehicle and also includes an enormous roof, which offers drivers and passengers an immersive outdoor experience while driving.
The BMW i4 in 2022 is a top-pick! Get seated, click your seatbelt and accelerate forward by ending the wait.
Order your BMW i4 model now!
By choosing the i4 M50 version, drivers equip themselves with a high performance vehicle built for ultra athleticism. Stay proactively prepared for every road thrown at you.
The i4 4-Door Coupe is Available in 2 Versions:
i4 eDrive40 and i4 M50:
Horsepower ranging from 335-536 hp

Never have to fuel up at the gas station ever again!

Charge your battery from 0-100% on 11Kw in 8-hours

i4 eDrive40:

5.7 second sprint in 0-60 mph with a strong horsepower of 335 hp

i4 M50:

3.7 second sprint in 0-60 mph with a raging horsepower of 536 hp

Up to $7.5K in tax incentives

Seat yourself and your passengers in a luxurious, all-electric spacious and comfortable sedan

3. 2021 BMW i3
The 2021 BMW i3 all-electric vehicle for sale fits just about anywhere! For drivers not needing a spacious vehicle as big as the BMW iX, the 2021 BMW i3 EV will continue to be a hot commodity in 2022.
This vehicle for sale offers number one practicality for drivers wanting a compact all-electric vehicle.
BMW i3: 0-60 mph in 7.2 seconds
BMW i3s: 0-60 mph 6.7 seconds

MSRP starts at $44,450

Exceptional 200-mile driving range

Horsepower: 170-181 hp

Tax incentives up to $7.5K are available to all buyers (Ask your accountant for details)

Charge your all-electric i3 to 80% in 40 minutes

In 6.5 hours, expect a 100% full charge (Fast Charge: at home and public charging stations near me)

With a standard home charger, drivers can expect a 100% charge in 13 hours

Never have to drop into a gas station near me again

Connect the BMW smartphone APP and receive the following capabilities:

Unlock or lock your BMW i3

Monitor and manage battery power and usage

Set the interior temperature of your vehicle before you enter

Discover parking spots nearby

Drive more efficiently by tracking your driving usage

Plus more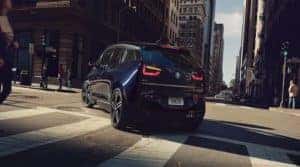 4. Ford F-150 Lightning
The Ford F-150 Lightning offers a large-scale truck for sale with a frunk. A one-of-a-kind all-electric truck with a front trunk aka a 'frunk' which can be used for extra storage.
This all-electric truck for sale helps drivers work and play in pure productivity.
Not only is there enough room for an actual work station inside this spacious & comfortable truck, but the power on board capability allows drivers to take this truck far out into the badlands to get real work done!
Power up this all-electric truck for sale and carry family, friends or your work and recreational gear. There's a lot of space within this all-electric build.
In 4 seconds, drivers can sprint and speed up to 0-60 mph

Pro Power Onboard

allows drivers access to 9.6 kilowatts of power (keep your important technology devices powered on for work or play at all times)

Lighting can be enabled with 360 degree visibility. If you love the outdoors, then this feature is practical when working late nights on the job site or out on a camping trip

Tax rebates up to $7.5K

Fill up? Never!

This truck's muscle can pull up to 10K pounds of gear with a payload of 2K pounds

A strong horsepower of 563 hp

Sustainable and attainable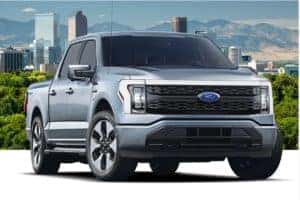 5. Tesla Model 3
Of course, Tesla is the one who started it all. Although Tesla is the pioneer of all-electric vehicles, this vehicle lacks as much capability and luxury as some of the other EV's on this list who've already perfected these high-performance traits.
If you must stick with the Tesla 3, drivers will gain a range of over 250 miles without needing to charge up. The vehicle is equipped with a dual motor and all-wheel drive, along with a fast speed of 3.1 seconds in 0-60 mph!
The Tesla Model 3 EV shows the electric vehicle world some fair competition!
Grab aerodynamic speeds up to 162 mph!

MSRP ranges $44,990-$55,990

Drive 250 miles before needing an electrical charge
For even more driving range, the Tesla Model Y electric car for sale offers a 330 mile range before needing to charge and also offers all-wheel drive.
At Supercharger locations, drivers can charge up to 162 miles in 15 minutes! (Luckily, Supercharger locations are located throughout the world with more than 30,000 locations which are positioned on well-traveled routes)
Charge efficiently, stay sustainable, resourceful and just drive with BMW of Reading!
For further insight, read our monthly blog for auto news pertaining to prepaid car maintenance, the BMW College Student Program, the BMW College Graduate Program, or visit BMW of Reading on Youtube. Also, be sure to join us and view our careers page; read about our pandemic response and how we put safety first. Browse our demos and loaners vehicles, learn all about the BMW New Owners Track Program, pay with Sunbit, read our privacy policy, or gain more knowledge about our Road Home Sales Event, virtual test drive your vehicle, order special parts and more.